this completely nonmusic post is being written during my lunch hour at home - as an ice storm moved in late last night, turning the neighbourhood roads into an ice rink. after unsuccessfully trying to win a pair of
Fleetwood Mac
tickets off local radio and listening to
Lammo
at the same time, I thought I'd snap a pic from my front door. the 2 small trails, 1 leading out from the garage and down the driveway to the street is my doing, after huffing and puffing with a shovel for 30 minutes this morning. by the time I reached the street, I put my foot on the clear part of the street - whatever snow had melted yesterday and refrozen - and decided indubitedly I would working from home today.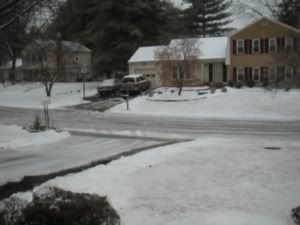 some v. delicious Patak's chutney. I feel like it's highway robbery at $5 a jar but whatcha gonna do in them States? (tho one wonders if I ever made the move to blighty, would a small bottle of Heinz's horseradish sauce cost me 3 quid?)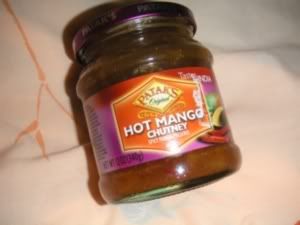 and at last, here is that picture from New Year's Day I promised in my blog's
inaugural post
. these 3 deer are having a grand old time munching on our back lawn. excuse the blurriness, it was taken through glass and a screen from the back dining room window.