this review will be short and sweet (for me!)
first, I want you to read this msg from the band's MySpace, 'cos I thought it was sweet to us. dunno why, but many artists and fans do not like D.C. fans - they think we're too uptight - and I'd really like to change that.
From:

the airborne toxic event



Date:
Mar 13, 2009 2:00 PM
Subject:

New U.K. dates announced, Arizona dates rescheduled..

Body:
So we're on our way from Washington D.C. to Chapel Hill, NC, having played Boston, New York, West Chester, and New Jersey, and D.C. this past week. There's rain and snow and trees without leaves in every direction. Such days are a requiem, a sort of meditative echo chamber of thoughts about the show, people we've met, people we miss, places we're going and places we've been.


We used to say it was surreal, but the strangest thing is how familiar the feeling is now.




D.C. was INSANE last night. Thank you.




We're happy to announce that we've added two new shows in the U.K.
in May:

Wed May 6 - Sheffield, U.K.
- The Leadmill

Fri May 8 - London, U.K.
- Koko

Tickets went on sale at 9:00 a.m. this morning (U.K. time).
You can buy them for both shows HERE.


We always have a blast in the U.K., and we can't wait to go back (and then back again).


Also, both of our Arizona shows—Mon Mar 23 in Tucson and Tue Mar 24 in Scottsdale—have been rescheduled.
The new dates are:

Tue May 19 - Scottsdale, AZ - Martini Ranch (rescheduled from March 24)

Wed May 20 - Tucson, AZ - The Rock (rescheduled from March 23)

All tickets will be honored.
If refunds are necessary, they can be made at the point of purchase

We miss you, we love you, I mean, we wonder where you are, like, right now..



Anna, Daren, Mikel, Noah, and Steven




the Airborne Toxic Event
--
the gig was amazing. my neck and back was getting a bit stiff and hurt while waiting, b/c if you're up front, you're basically eye level with everyone's knees (haha). I liked
the Henry Clay People
, TATE's friends from Los Angeles, they really engaged the audience. was less impressed by
Alberta Cross
, they were great technically but I wasn't a fan of
Petter Stakee
's singing. I feel terrible, but I'm not sure of the lead guitarist's name - the singer didn't introduce the band - so I'm at a loss, but dude, you were smoking!
then came TATE a little after 10.30. WOW. I've been to my share of gigs but this one was truly impressive. I felt bad that lead singer
Mikel Jollett
had to go on after only a week of convalesce (from laryngitis and a high fever) and considering he probably has a similar constitution as I do, I felt doubly bad. (have a read of this
Guardian article
, it made me well up. really, seeing him sweat on stage after one song made more worried b/c I wondered if he was having a feverish relapse or maybe it was the meds. my own musical aspirations were quashed by a similar diagnosis so seeing someone overcome that and succeed AND have fun? truly powerful.) but enough of this seriousness...
above all, the band wanted to make sure we were having an awesome time, and they did that. they were all over the place, jumping on the stage, leaning on each other or getting in each other's faces for their own and our amusement, and did I mention the songs were spot on as well? I was singing along as was everyone in the club. I loved every minute of it.
--
here are some photos from my excellent vantage point front and center:
the totally fierce shooz
of
Anna Bulbrook
- you can make out her violin bow higher up in the photo. having a female violinist/keyboardist in makes their band truly unique - and I love that they have a strong, independent woman who sings like a mystical siren too. girl power!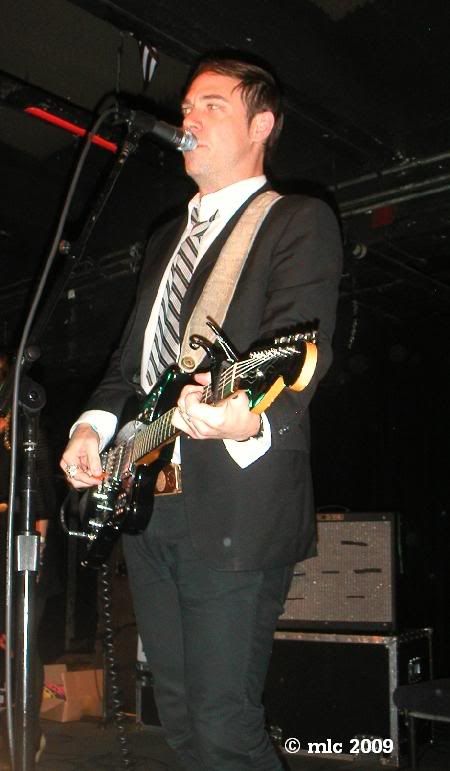 Mikel Jollett
singing "Wishing Well" - a song he says he took from real life
Mikel
adjusting those pesky pegs on his electric
sorry this one's fuzzy - it's Mikel leaning on bassist
Noah Harmon
during one of the songs. I couldn't react fast enough and thought I better snap away than miss the moment.
I have more if anyone's interested. but in the interest of keeping this short, thought I'd post my faves.
all in all - a pretty unforgettable night!
folks, if you get the chance to see them live - go! you won't be disappointed. I only wish I could go to that Koko gig in May...
but no. I am going to see one of Mikel's heroes (and one of mine!) on Saturday,
Morrissey
!