warning: not a music post. a football / World Cup post!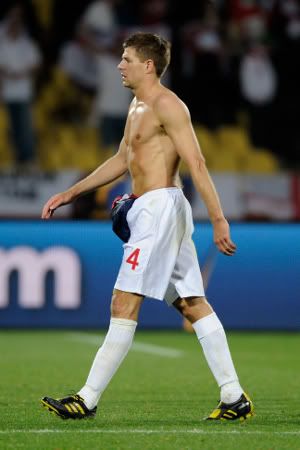 years ago, when I was a wee little sprog, I really enjoyed watching (American) football. I would sit on my dad's knee as he drank a Michelob and watch our beloved Redskins play. the Dallas Cowboys were our sworn enemy (but it was never fully explained to me why. if you lived in the DC area you were supposed to hate the Cowboys and anyone sorry enough to root for them).
nowadays I don't follow any of our local teams, except for my alma mater (University of Maryland) and their NCAA basketball team come March Madness.
England Premier League footy and the big kahuna of them all, the World Cup, are entirely different. there is something so wonderful about English footy. I think it has to do with regional pride, because where you are born in England determines which team is your team for life. I know my dear friend
Matt Abbott
, Wakefield born and bred, will always be a Leeds United lifer, as
Steve Lamacq
will always be a Colchester United lifer. it's a badge of honour, it's a badge of solidarity. you may move away from your hometown, but you keep the loyalty. I don't feel that kind of loyalty here in America, for any sporting team. maybe the crazy Yankee and Red Sox fans may beg to differ, but at least in the DC area, except maybe somewhat for the Redskins (who have done so poorly the last couple of years) there isn't any team that EVERYONE in town roots for.
I am unfortunately on the fence between two teams. I used to only have one team,
Liverpool Football Club
, featuring captain and perpetual hot stuff
Steven Gerrard
.
Peter Crouch
, all 6' 7" of him, used to be on the LFC squad too, until he got traded to Portsmouth FC and then eventually to
Tottenham Hotspurs
. several friends of mine also root for Tottenham, so this was all v. strange and ironic to me.
anyway, to make a long story short, I root for two clubs in England, which is not really allowed. it's like Macca saying he supports both Liverpool and Everton (a super big no-no b/c they're warring teams in the same town) but he says he supports Everton b/c it was his dad's team. aw.
yesterday I hung out with some friends for the England/USA match at an English pub downtown that surprisingly was not as rammed as I expected.
as I was cutting into my fish and chips I had my head down for like 2 seconds and I missed Gerrard's goal before the 4-minute mark.
talk about epic fail. he'll just have to score again in some other match so I can make up for it. I was wearing my Gerrard kit and it got plenty of attention. I got mock-heckled at the corner book shop by a clerk who's a fan of AC Milan. (AC Milan beat Liverpool in a an UEFA semifinal sometime in the near past, I forget which one b/c I tried to erase it from my memory. so I'm not sure WHY he was upset, even jokingly so. his team beat ours. geez!)
the next match is England vs. Algeria on Friday afternoon. I'm hoping the ladies who normally watch 'One Life to Live' on the DirecTV in the basement of our office at most lunchtimes will let us watch ESPN! here's to hoping...