I honestly did not think I had a chance in hell seeing
Delphic
in Washington this year. and possibly until 2012. MB has had all her favourite bands coming through town and booked through November (
Marina and the Diamonds
,
Lady Gaga
,
Foals
, etc. - acts I don't care for) and I didn't have a single one. so much that I went ahead and booked my travel arrangements and hotels to get me to Philly and Boston to see
Delphic
SUPPORT
the Temper Trap
the last week of September.
then I saw this yesterday afternoon on Twitter while I was at work. I really don't know how I managed NOT to scream my head off. I was ready to jump out of my skin.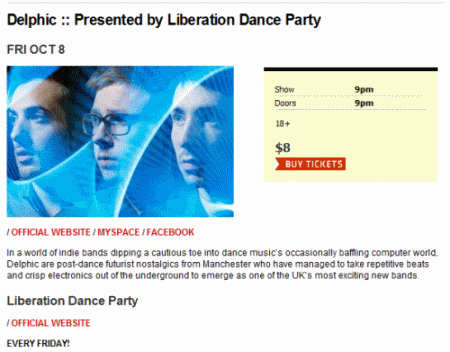 DC9 is the nightclub where I first heard 'Halcyon' played - ever - in DC. (this was back in February. before I knew I was going to Roskilde. hell, it was 3 months before I even knew Delphic was going to play AT Roskilde.) so it's only right that they will grace its stage in a month's time.
my friends have already gotten their tickets. everyone is stoked to the max.
this is gonna be huge.
I'm overwhelmed that I'll be seeing them 3 times in 2 weeks, the last time in my hometown so I can show them around a bit (maybe, we'll see about that part)...
--
in more Manchester news, I am interviewing fellow Marpleians
Dutch Uncles
this weekend. I shouldn't have knots in my stomach b/c they sound like amazingly nice guys but yeah, I want this to go well!