St. George's Cross flag for
Morrissey
,
in progress on 4 March, sitting on my duvet
sorry if it's huge! making that "S" took forever...

nearly a month after I saw "the man" in concert for the 7th time, I thought it would be a good idea to reflect back on the night before my brain loses any more of the memories.
I'd given him something at
Bridgewater Hall
in Manchester 3 years ago (or more accurately, chucked the necklace onstage with all the might in my left arm), and it seemed somehow appropriate for me to give him something for again gracing my hometown's stage. I've been a fan of Morrissey's since 2003 - my now ex-bf gave me a mix CD of his solo stuff and I was hooked for life.
he writes lyrics
that touch me deeply - and I just love intellectual lyrics. it's not enough for me to get the groove - I need to feel something in the words a performer sings. and what he's meant in his words has meant so much to me.
thanks for the people directly in front of me (equivalent to about 4 people rows), the flag made it onstage and eventually, after some stage changes, it was propped up on the bass drum. I have circled it on these pics from the delightful Mallory (a fellow MD concertgoer) so you can find it easily if it's not immediately obvious.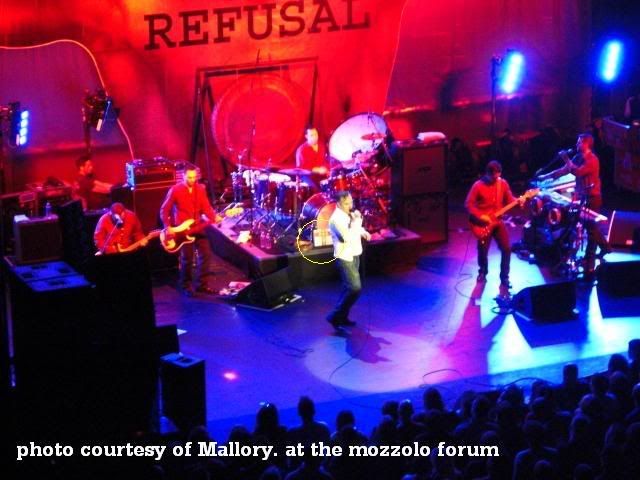 overall, I sang my heart out, I swayed to the music (even though the Northern bloke kept trying to put his arms around me - dodgy!), I danced - and had a really fab time.
for a more technical and possibly more literary take on this gig,
read my review at

Popwreckoning
.
some people in
mozzolo land
and further afield have expressed discontent in his set list for this tour - apparently he's not varying the set list, making tour stalking throughly disappointing. having only followed one tour - the Ringleader of the Tormentors tour in 2006, and only 4 dates, 3 in Manchester and 1 in London - I don't have an opinion either way. with a new multi-instrumentalist for this tour (whose name I don't know, but he replaced American
Mikey V. Farrell
), not varying a set list was probably smart. there is also much made about security being a beast at the Warner. well folks, you're in the Nation's Capital, what do you expect? and it's a seated venue. if he didn't want this, he should have booked
the 9:30 Club
.