it seems rather inappropriate to be writing about
my 3-day trip to the then-shockingly, sunny Boston
the first week of December while the entire East Coast is recovering from the snowstorm of the decade (and possibly the snowstorm of my lifetime). but...I do want to write this because over 2 weeks have passed already since the Paradise gig with
Friendly Fires
and
the xx
and I feel like if I wait any longer, the memories will fade. so here goes with part 1 of 3 of my Boston trip diary.
--
Day 1
(2 December)
getting to BWI via mass transit relatively peaceful. defo much cheaper than hiring a taxi (it would have been upwards of $70 plus tip), I paid $7. BWI looked a lot different than I remembered it. they've turned it into a mini Heathrow, with all the yellow signs. a little creepy.
plane ride was uneventful. in fact, we arrived almost 30 minutes early. signage to the Massport shuttle (to get to Airport station on the Blue Line) was virtually nonexistent, and one of the security women inside the airport was entirely unhelpful. it was windy too - boo. I ended up stood next to these two burly construction guys who were smoking and making small talk to some out of towners. finally the bus arrived and I hopped on. armed with loaded Charlie card, navigating the T was almost a breeze, except that I missed the outbound Green Line train I should have taken. no worries though. I figured out which cars were wheelchair accessible, which made lugging my suitcase and carryon up into the train much easier (instead of climbing stairs). being a small girl defo has its challenges.
alighted at the
Copley Square
stop and then realised - with a large groan - that there was no lift and I would have to hoof myself and my bags up the stairs. once to the top, I gulped the fresh air and then looked around. I immediately missed the D.C. and London arrow signs that point you in the direction of the major sights. I walked a block down Boylston, then realised that I'd stupidly walked in the wrong direction. (of course.) walked the other way and then found my hotel.
with happiness I learned my room was ready (despite the fact that I was hours early of the check-in time) so I got unpacked. (to this day I'm not sure where an entire set of badminton birdies (shuttlecocks) made of actual bird feathers went, because I had brought them as a xmas present for a particular drummer who likes to play badminton in Hackney. at first I thought maybe I'd forgotten to pack them but when I returned home, I didn't see them anywhere, so I think someone must have nicked it from my room :P well, it's the thought that counts, right?)
after unpacking, I went out and explored the famous
Newbury Street
. I had a mobile chat with my friend Julie, who writes her own blog
Boston Musings
and planned to meet her the next day. I went down to
Newbury Comics
and had a nice chat with the blokes behind the register to get information on
the xx in-store
on Friday. after I left, I was grinning from ear to ear, having had a v. nice discussion with them on how great
the xx
were live. oh, and I'd finally bought
Camera Obscura
's My Maudlin Career and was going to listen to it later on the ace sound system back in my hotel room.
like this sign? it was posted outside a new age store that sold "
the softest stuffed unicorns, ever
". and of course, garden gnomes. (and yeah, if I'm being honest, they are the softest stuffed unicorns I've ever touched. haha!)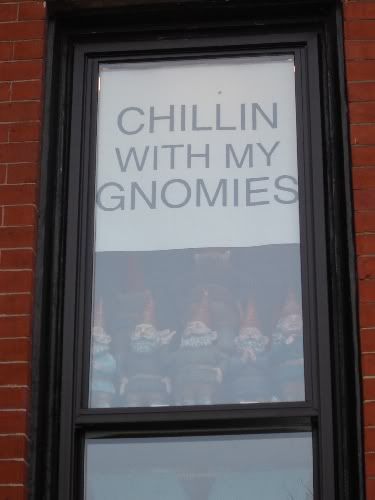 the sun sets a lot earlier in Boston than it does in D.C. and since I hadn't eaten lunch yet, I had a way early dinner (1500, haha) at the
Atlantic Fish Company
- oysters on the half shell and some massive broiled scallops to die for, plus some kind of cheesecake thingy that I decided I just had to order for my belated birthday. sorry, no picture here b/c 1) it felt weird photographing in such a chichi restaurant and 2) if you saw how much food you'd probably gasp or die laughing. granted, I hadn't eaten anything since 5 in the morning when I'd left the house.
I bought some ginger ale at the supermarket down from the street from the restaurant (I know, so v. rock 'n' roll!), and headed back to the hotel. it was way too early to turn in, but it was so cold so I headed over to the
Copley Square "mall" thingy
- overall, overpriced and full of other posh people (though I had a good laugh at seeing a Boston outpost of
Thomas Pink/Jermyn Street
whose stores I thought only existed in London. what can I say? I appreciate well-dressed, well-groomed men.) after that, I went into
the
Boston Public Library
and poked around a bit. it's really beautiful inside, all that amazing stone that was molded by human hands to make a monument to the written word.
still freezing outside, I tried to take photos of the decorated xmas tree in Copley Square (didn't turn out too well) and the tortoise and the hare. this photo the next day turned out much better, once the kids stopped clambering on top of the poor creatures (click the pic for the full view):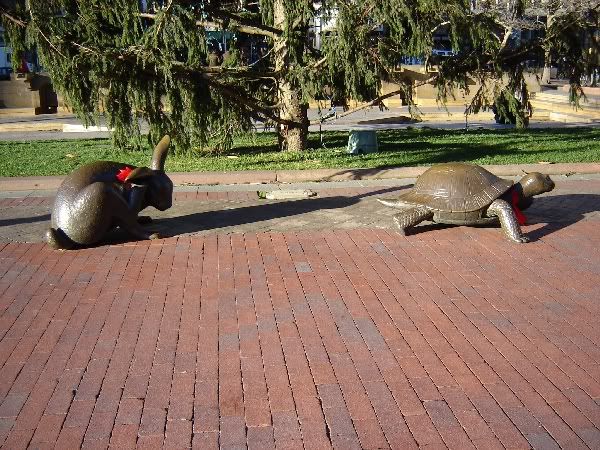 returning back to my room, I drank several glasses of icy cold ginger ale, then laid back on my bed, happy and tummy full. "Honey in the Sun", sung by that amazingly talented
Traceyanne Campbell
, blasted through my speakers, and the beauty of the song (and what it meant to me) made me weep. after drying my eyes, I finally curled up and went to bed.