note: day 2 was a lot less exciting, owing to the fact that I did touristy stuff.
Day 2
(3 December)
had a nice lie-in. (normally I'm up and at 'em by 630 for work.) went downstairs and filled myself with oatmeal and tea from the comp brekky as I saw the rain pouring down outside. I figured it wasn't worth leaving the hotel until it stopped. then I parked myself in front of the lounge's computer to see if I had received the email I had been waiting for. nope.
finally left to go to
Faneuil Hall
and
Quincy Market
(the one big Boston tourist trap). unfortunately, the maps I had did not show every single street, so I was walking around fruitlessly for an hour and I thought following a trio of women trying to find Macy's would be the answer. whoops. finally made it over and by then, it was 11 and I was starving. a bewildering display of food from every corner of the globe beckoned. cookies from the famous
Boston Chipyard
were way too ridiculously expensive IMO so I decided to find chocolates somewhere else for
certain friends of mine
. I finally decided on a Italian sausage with onions and peppers and sat myself down at the top of the marketplace with my knife and fork to dig in (and boy was it delish). but before eating, I snapped this. (you don't understand. D.C. doesn't really get itself in the xmas spirit. we're really that bureaucratic.) I thought the way they'd decorated the place looked beautiful.
the weather had turned amazing. Boston hit a record high of 67 F - unheard of for Boston in December! - and I took advantage of this by hitting
Boston Common
. the web of footpaths reminded me much of Hyde Park. I started to miss London terribly.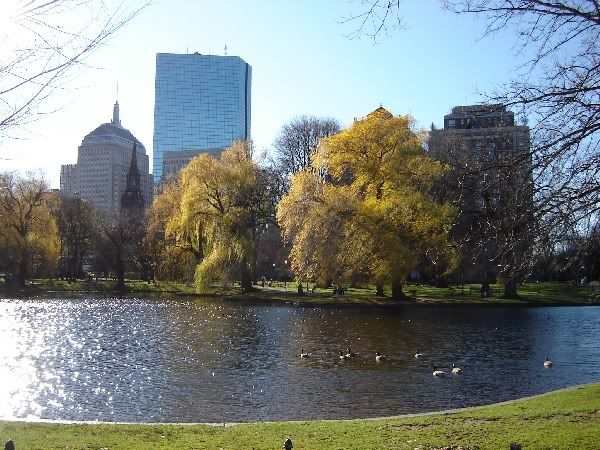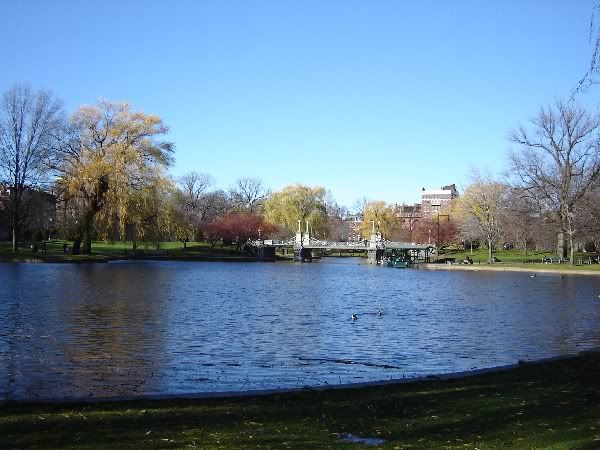 and this would be
the famous ducklings
of the book
Make Way for Ducklings
by Richard McCloskey. I dunno about the Brits, but if you're American, you defo remember having this story read to you when you were a kid. awww. I sat on the park bench directly facing the ducklings and thought back to 28 May, the last time I'd sat in such glorious sunshine, in London.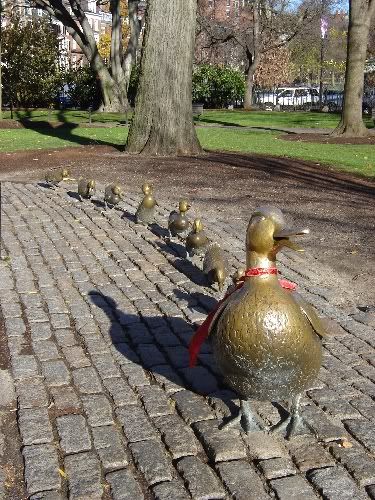 on the way back I went to
my favourite chocolatier
to pick up some tasty morsels for my friends to nom nom on their bus the next day. (seriously though, what are the odds that the store was *across the street* from my hotel? FATE.) somehow, I managed NOT to buy anything for myself. (gotta keep up my girlish figure somehow, haha.)
took the Red Line train to
Harvard Square
to meet Julie for dinner. on the way there, I looked on the walls for signs of something funny. I had been "warned" by my friend H that her hubby A was on the advert posters for Boston Uni graduate school on the train. I thought, hm, I bet I won't even see these posters! I got on the train, the doors closed, and yep, there was A's silly mug. I had to laugh. at least they're not as embarrassing at Joey Tribbiani's VD New York subway adverts!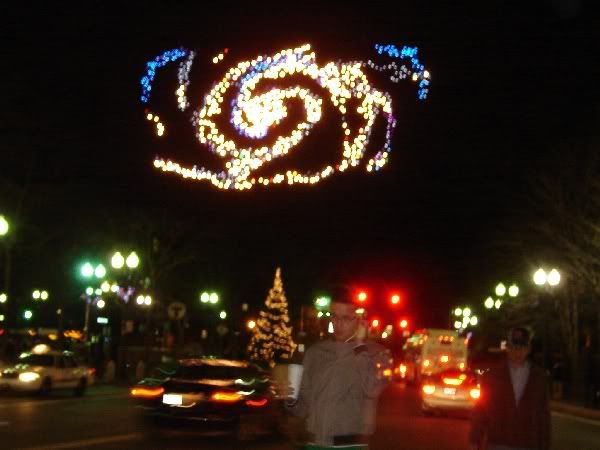 I commented to Julie that the town was dolled up like Candyland. really. it has this charming, small town quality. not a fan of all the uni kids that were smoking. too bad. we ate at
Grendel Den's
, a little pub right near the square that was really hopping for a Thursday night. disappointingly, I wasn't carded. those days are over I guess.
however, all was not lost. I noted the English accent of our waiter and asked him, "
what part of England are you from, my love?
" he smiled and laughed, "
everyone thinks I'm from Scotland! you're the first person that's asked if I was from England. I'm from Leeds.
" we traded "
my love
"s all night, which was fine by me. I loved being called "my love". is it wrong that I always get this warm feeling when I talk to polite English boys?