so to continue...
Julie thought, and reasonably so, that maybe I'd be able to see one of the guys from the band and still get some kind of interview from them, once they knew *who* had been asking for the interview. I was after all the American journo that had headed out to Nottingham to
see them
and
chat with them
in May at the Dot to Dot Festival, to their near-speechless surprise.
so I'm standing outside by myself - freezing my arms off again (I'm never wearing that jacket in the winter, I swear!) - and then in the distance I see two blokes approaching in dark winter coats. they're too far away for me to make out their faces. (remember, it's dark, it's 1900 on a Boston night.) by the time they get closer and reach the bus parked outside the club I realise far too late that one of them is Ed Mac. (he's wearing socks, which also throws me off. if you look at any of FFires' gig photos of him, he's clearly not wearing any visible socks when he's dancing.) professional decorum prevents me from shouting at him - I'm sure he really did not need or want any fans mobbing him at this point - so that was that. I also see some other people in their crew that I recognise but they're all on their mobiles and it'd be rude to interrupt them.
I mean, seriously. what if they were talking to their mums?
the bar opens finally and at last I can sit down and warm up a bit. a stroke of good luck as I spy Edd Gibson coming into the club's bar through the regular doors, as if he were one of us. I wave and as usual, he's as nice as can be. he apologised for being unable to give Julie a guestlist spot as he's already given his last one away eating out earlier. (so it ended up that Julie couldn't find a spare ticket. it was really that sold out. even the touts were trying to scoop up tickets and gouge fans. if you're sceptical, read
Julie's "review" of what happened
.)
so I go to the gig by myself. but you're never really "by yourself" at a gig, are you? I find myself surrounded by people who work for Converse, which explains why everyone is wearing fashionable Chucks on a winter's night. you know how if you go to a party and you see friends, and you have to introduce some friends to other friends if they don't know each other well? well these Converse employees did that, and then realised when they got to me they had no bloomin' idea who I was. so this one girl introduced me (seeing my photo pass on my arm) as "
...and this is the band's official photographer.
" ::blush:: I wish! I explained to them to the more interested ones that no, I wasn't FFires' photographer, but that I was writing this up for two blogs and that I'd come up to Boston from D.C. because the tour was not stopping anywhere near us. it seemed to impress some of them about my knowledge of
the xx
(having seen them twice prior coming up to Boston) and where I've been on my blogging travails. one girl, an apparel buyer, told me she was a Capricorn and started asking me what sign *I* was - er...was she hitting on me? I was too busy faffing with my camera's settings and worrying about covering the gig to notice. (BTW, if you were wondering, I'm 100% hetero. sorry girls.)
here is a photo of the FFires set list (next to Ed Mac's synth stand) snapped by one of the nice Converse girls. five gigs now and I still don't have one! I've told my friend MB (who I gave
the Big Pink
set list to) that the next time FFires are in D.C., she is crawling onstage to get the set list for me (haha). it's somewhat amusing that I've seen
Ladyhawke
twice and I've gotten both her setlists, one for D.C. and one for Nottingham, with minimal effort.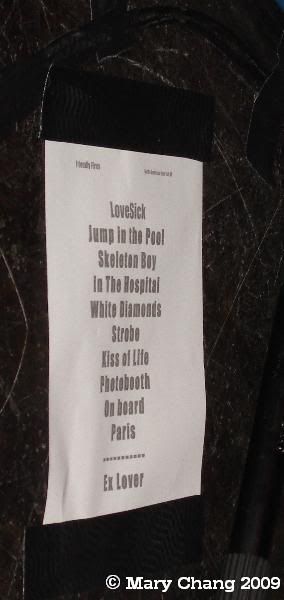 all in all, a good gig. defo not the best I've seen of theirs, but v. good still. it had nothing to do with the band - they were giving it their usual 110%. (you guys were sick? really?) the crowd just wasn't excited enough. there wasn't the palpable, electric feeling of "OMFG, I'm seeing Friendly Fires tonight!" that I've witnessed from the audience at other shows. from what I heard about the Webster Hall gig the next night, I did well to avoid their screaming, fainting teenyboppers. so I probably made the right decision to head to Boston instead of NYC. I really like Boston! the people are really nice, unlike those crazy people I ran into in NYC in August. and I really like the Paradise.
maybe one day I'll get to interview them again. I hope so. maybe they'll actually remember who I am. I doubt they'll remember what didn't happen in Boston.
and here are the Paradise gig reviews, if you haven't read them yet (shame on you, b/c they've been featured in both places and on the Paradise Rock Club blog!)...
on PopWreckoning
on There Goes the Fear
on Paradise Rock Club's Blogspot
when I'm preparing to post a gig review, I go through my photos and pick out the best ones. this being the 5th time I've seen FFires, I've gotten my technique down for photographing them (if I do say so myself). they're such a photogenic band and have so much energy that you can't really take a bad photo of them, unless it's framed improperly. (let's say someone's head or arm got cut off while the shutter snapped, or I've got a great view - of someone's back. heh!) or someone's moving around too much (which of course is possible since this is, after all, dance music). but I had so many beauties to choose from that many just didn't make the cut. so this is where you benefit, oh dear reader. in addition to
these that I posted earlier this month
, here are some more gorgeous shots from the night.
el Gibson readying himself on guitar
Moog love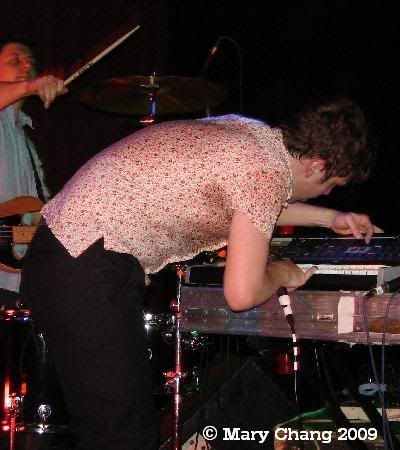 can you feel the emotion from Ed Mac? can you feel it? (apparently my mum cannot. she sees the photos I take at gigs and says, "ew, sweaty!" um...you'd be sweaty too if you were giving it your all, performing.)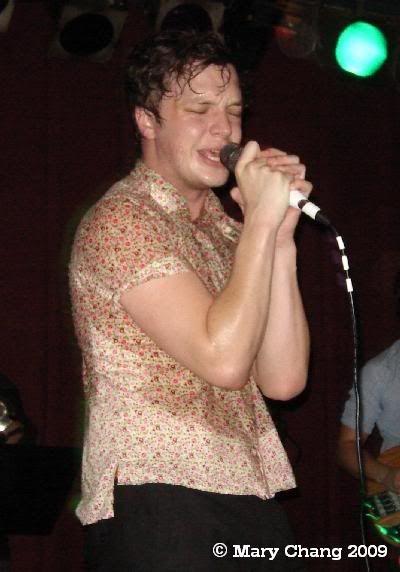 I love how the light glints off Edd, banging away on his guitar, in this pic. sometimes "mistakes" make for compelling photos.
are you "On Board" yet? (Edd and Rob)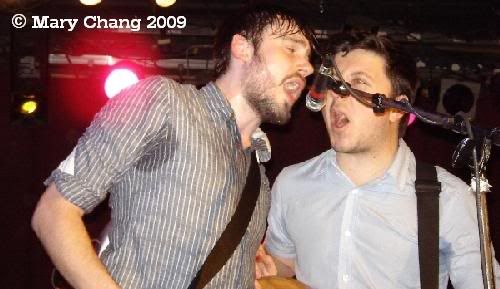 the Mac introducing the encore, "Ex Lover"
in all likelihood, doth endeth my travelling far for FFires. 2009 was a good year. bring on 2010 and whatever bands charm their way into my heart.