I can scarcely believe that today, the 24th of March 2010, is exactly one year to the day when I first saw three boys from St. Albans live for the first time. (actually, four boys if you include
Rob Lee
, but I'm talking about the holy trinity of
Friendly Fires
-
Edd Gibson
,
Ed Macfarlane
, and
Jack Savidge
- said v. tongue in cheek! - in D.C.)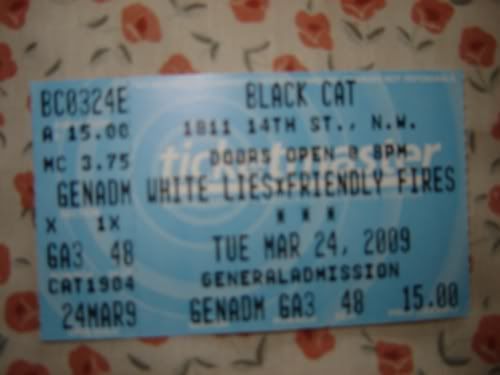 little did I know that life as I knew it was going to change forever, as I would see them 4 more times over the next 9 months, in three different cities (four if you count Brooklyn separate from Manhattan, plus Nottingham in England and Boston). not one of them in D.C. my bank book changed as well (and the band know this too...I am sure they are fully aware of how difficult they've made my life and how much they owe me a show in D.C. ASAP, haha!)
they made me love dance music again. they made me want to dance again, or rather
Ed Macfarlane
did, with his seriously wicked dance moves on the stage and sometimes IN the crowd. they made me get excited about music again, because I hadn't been for a v., v. long time.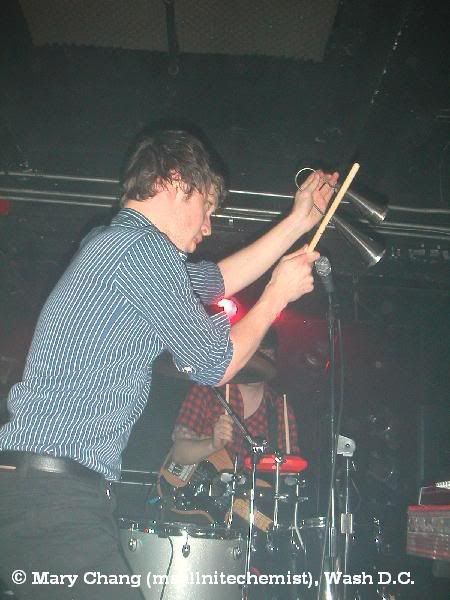 I met and talked with them at different times in different places, at one point
interviewing the Edwards in Nottingham
on their tour bus, which had to have been one of the most surreal moments of my life. it was the first "real" interview I did after becoming a blogging journo, and I was nervous as hell b/c, well, I was in England for starters! and being a fan, it was nerve-wracking enough to be asked by their tour manager to "go on up" onto their bus. then I narrowly missed running into the back of Ed Macfarlane as I came up the stairs.
for sure he was not expecting me, wearing a v. Magnum P.I.-esque red Hawaiian shirt and very tight white trousers, looking the epitome of cool. (I kick myself often that I do not have a photo of this cool cat outfit.) before
Edd Gibson
showed up, there were a few tense, silent moments until we started talking about food and alcohol (isn't that what they say, the way to a man's heart is through his stomach!) and then everything was ok b/c I'd been sussed as a worthy journo. (since then I've been validated in a similar way by many musicians I've interviewed and trust me, it feels great when people in the business respect you for what you're doing.)
sitting on that bus with them, two out of three members of my most favourite band of the moment, in my most favourite country in the world...I was on cloud nine. and I got to see them perform a couple hours later too. I nearly had to pinch myself that the blessed day in Nottingham, 24 May 2009, actually happened.
it's been weird, watching them getting more praise and accolades (which they totally deserve) but at the same time
I feel a bit sad
b/c for a while, they were my little secret, the band that I loved with all my heart in secret b/c no one here had any idea who THEY were...and now they've gotten enough cred around the world that anyone who is anybody in the business know who they are. and you know what? that's just fab.
but even if years from now they are some huge massive band that plays stadiums and shows up on network telly all the time, I can still look back and say,
yes, I was there when they first came to Washington. I experienced that!
even if they don't remember playing that little town of D.C., I'll always remember that night.
--
in honour of the occasion, I'm dusting off the second live review I ever did for PopWreckoning and some others I found to take you back to the blessed day where every single person present agreed that they had usurped the faux headlining crown from atop
White Lies
's proverbial head and took it for their own. enjoy.
my PopWreckoning review
- somehow I managed to veil my sudden defection from the dark Londoners to the carnival dance inducing blokes from St. Albans in this.
personal thoughts
posted on this very blog shortly after my world had been rocked by them.
Brightest Young Things review
- this is by a local, D.C.-based blog and has the immortal line '
I was lost, deep in thought, scratching my head trying to figure out how I was going to justify to myself, friends and family, the fact that I had a bit of a man-crush on this small, british, seemingly-coked up singer of lead melodies
'. I think the comment 'fun as shit' is more uncouth than I would write, but I have to agree with the sentiment!
Everybody Taste review
- loving that a lover of the Soft Pack's would admit so readily to be drawn in by a dance-punk band.
DCist review
- view this mostly for the pictures by Francis Chung, which are absolutely lovely. you can see my camera in the fifth photo (it's a small square one) but not me actually b/c of the angle (boo).
actually, there is only one piece of Friendly Fires media that I'm aware of being in, and that's this crazy, crazy video from their performance at the Music Hall of Williamsburg in Brooklyn on 13 August 2009 (aka 'the video where the drunk girl mauls the English singer'). Ed Mac jumps down from the stage during 'Paris' and for a couple moments you can see me before the crowd swallows me up and pins me to the stage (definitely not my finest hour!) to my knowledge, it's the last time he's jumped into a crowd and I don't think he'll ever do it again, because no venue would be able to guarantee that after jumping in, he would emerge unscathed with arms, legs, and clothing intact (!)