when you read this, I will be in Philly, recovering from the
Two Door Cinema Club
gig the night before at Johnny Brenda's. but I did not want to leave you hanging without a Friday amusement post so here it is, queued far in advance. (aren't I nice?)
MTV Buzzworthy
taped a Discover and Download video featuring
Friendly Fires
from I believe the fall of 2008 and you can watch it below. the
Ed Mac
dance sequences were filmed by my NYC friend
Rachel
, who was asked by MTV if they could use her video from the 24 March Black Cat show. so it's pretty cool that our gig was preserved in a MTV advert for the band. and my god, Gibson, Macfarlane and Savidge look
soooo
young.
MTV describes them and their music as follows:
Produced completely in their garage, Friendly Fires' self-titled debut is a burbling escapist fantasy. The sort of thing that inspires three grown Brits to undulate like samba dancers on a nightly basis.
it was one of the first (and unfortunately, one of the very few) things I ever saw of them on American telly. and yeah, whoever was doing styling for the shoot needs to be given massive kudos b/c I fell in
♥
when I saw this on the big screen for the first time.
the video was filmed during a photo shoot that produced some of the greatest shots I've ever seen of the band. I have my favourites (haha) but I rather like the drama of this one. mmm three pairs of cute English boys' eyes staring at you? yes please!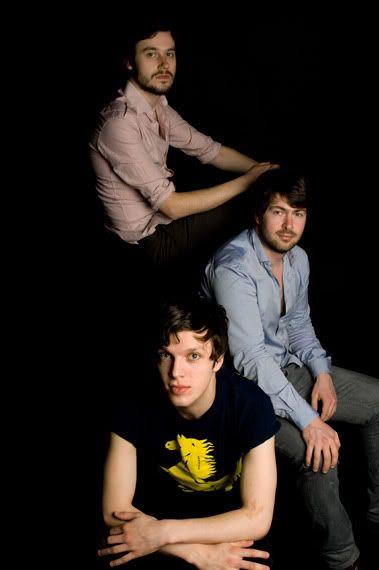 happy Friday kiddos, speak soon.