even though some of my girlfriends think I'm a weirdo for even counting that we're getting older, I do think birthdays are important.
equally important are anniversaries.
and for a music fan like myself, anniversaries of gigs are up high in importance on the "special dates" ladder.
so please humour me while I reminisce exactly 6 months ago, as
yesterday was the 6-month anniversary
to the day of the first time I ever saw
Friendly Fires
live...
they were playing with
the Soft Pack
and
White Lies
at the relatively small (700 people thereabouts) Black Cat club in Washington. this gig didn't require anything of me except driving a couple miles to the closest Metro station, putting some cash on my Metro SmarTrip card and going downtown via subway, getting off and walking by the now-famous
Ben's Chili Bowl
(thanks Obama) and down 14th Street to get to the club. the place is so small that even tho I queued briefly outside - and had to calm down some people behind me in the queue, explaining to them, "yes,
White Lies
is going last, they taped Letterman in New York this afternoon" (most of the people appeared to be only interested in them, and were ringing their friends to tell them, "yeah, you can show up later" - whatever) - I got inside and found the D.C. Britpop group already staking their claim on the front row real estate, so I would be fine location wise.
I knew nothing about their live show so I didn't know where to stand. I finally I decided on a place slightly right of center. after
the Soft Pack
finished and
Ed Macfarlane
came out to set up his synth (the heady days before they had dedicated roadies), for a moment I thought, "oh christ almighty, I have picked the worst spot imaginable. he's going to be standing at that Moog all night and what view will I have? his arse." (remember, I had no idea about his now-legendary dancing.) I snapped a photo of him fiddling with the Moog dials and of
Edd Gibson
tuning his guitar, pick in mouth. I couldn't see
Jack Savidge
at all b/c the White Lies bass drum was at my eye level. I had no idea who the guy in the red plaid shirt was, bass slung over his shoulder. (I now know this is their mate and touring bass/percussion guy
Rob Lee
.)
any previous reservations I had about the band evaporated from the opening bars and words uttered out of Ed Mac's mouth of the first song.
yes, they had me at "Lovesick". I haven't been the same since.

exactly 4 months ago I saw them headline at the Dot to Dot Festival
, where I interviewed
the Ed(d)s
on their tour bus for almost an hour (unheard of pretty much in blogger interview land) and found them to be probably the most charming, humble Englishmen I'd met up to that point. I realised at that point that they were true music fans. which, whether you choose to believe it or not, a lot of people in pop music have no clue what's going on out there. there are so many people in this business who are up there in the charts not b/c they're especially talented, but b/c their management has built up their image and/or they are controversial for bad reasons. (er...
Lady Gaga
? sorry. I know she has a global fan base, but where will SHE be in 2 years?)
not trying to be corny here, but yeah,
they changed my life.
it had been years since I really gave dance music a chance on my turntable. they have changed the way I've looked at the music business - I now think, you know what, there is room in the business for people who want to make music
their
way and not have to sell out. and you can be yourselves and not be someone else your label wants you to be.
some bands sound great on record but are horrible live. I have never met or heard of anyone who has been to a
Friendly Fires
show and has left saying, "that was bloody awful". 4x I've seen them now and they've never been awful, even if they themselves think they've been. they're just that humble!
in my life, I've had more than my fair share of stupid medical problems. so being able to give myself over to joyous synth-driven dancepop and forget about everything else is a godsend. I know that's why I
♥
them so much. they have a good time on stage playing their music, you can't help but join in and have a good time dancing to them.
THANK YOU

Friendly Fires

.
it's been a pleasure to be one of your fans. and to know you.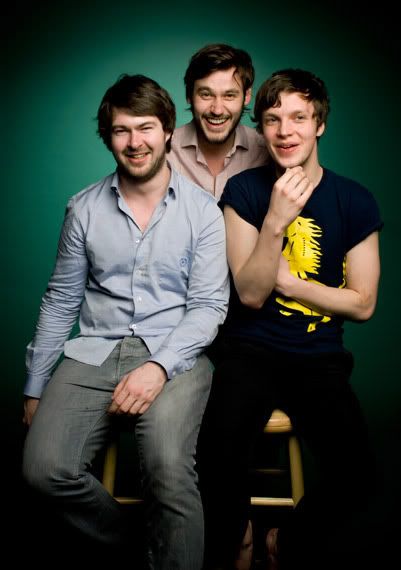 ...and 71 days I plan to see them again, in chilly Boston. that's a good 440 miles away from here, so I'll have to fly. am I mad? quite possibly. will I have a good time? indubitably, yes.
--
related links:
my PopWreckoning review of the Black Cat gig
all PopWreckoning articles tagged with friendly fires
, including my interview and gig reviews
all There Goes the Fear articles tagged with friendlyfires
, including my NYC gig reviews
earlier thoughts on the Black Cat gig
on this blog,
plus photos