like
Rick Boardman
I starting playing piano when I was very young.
unlike Rick Boardman I gave it up in my teens for a multitude of reasons - too much schoolwork, I was ill, etc. and so while I can still read sheet music, I don't 'play' anymore per se.
dunno why but tonight I decided to take a look at my brother's bass guitar that had been abandoned in our basement a couple years ago when he moved. TBH it looks like a boy's bass - it's jet black. and according to some research I did tonight on the internet, it's a bass guitar designed for metal. (haha.) which is why it has 5 strings and not 4 like I'm used to seeing most bass players play.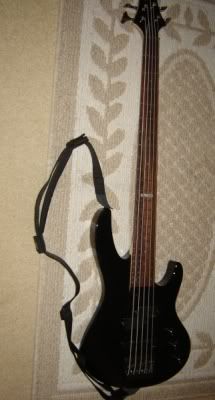 in any event, I was able to tune it thanks to the internet - actually, the only string amiss was the thickest one, the one that only metal bassists use. the other ones were properly tuned. (go bro!)
minor hilarity ensued when I realised I did not know how to put the guitar strap on, and then remembered there were bolts at either end to attach the strap to the bass. then there was some trouble getting my head through the strap and wondering why my head was in the wrong place. some trial and error and - I admit this - referring to this photo below from Roskilde - finally got the strap situated on the correct shoulder (the left).
thanks to a friend who sent me some instrumental tracks, I was trying my hand at learning
James Cook
's parts for
Delphic
's 'Doubt'. someone had tabbed it online so I was noodling around with the bass and I think I got it.
maybe I will be able to actually start playing along with my favourite songs come Christmastime.
wish me luck!