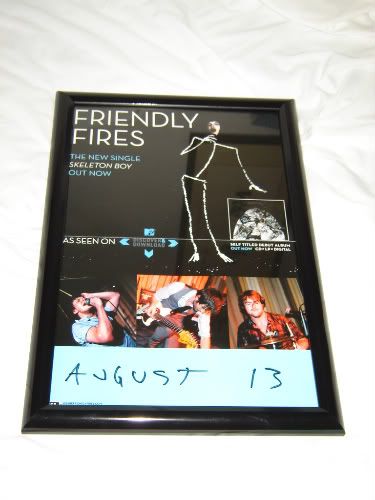 it's a little freaky to me that it's been over a fortnight now since I travelled up to New York City to see
Friendly Fires
play 2 gigs over 2 nights. for some reason, it seems a lot longer - I guess when your feet are dipped back into the fire (back at work) after having them lily white and untouched for 5 days (including the weekend when I was back home) everything feels like a lifetime away.
5 things I learned:
1. the Indians that own the mostly takeaway place across the street from the Hotel Chandler (E. 31st Street) are really nice. if you go late at night, the place is surrounded by Indian cabbies talking shop, so you know the food must be authentic.
2. NYC crowds are completely mental and when drunk, really stupid. not saying that D.C. crowds do not act the same way when plastered, but 13 August in W'burg was a pretty dumb showing, kids.
3.
LPR
- really cool venue, really cool people that work there, and if I ever wanted to host a CD party, I'd do it there. in general, the bars and even the bouncers are cooler in NYC than in D.C. (then again, this is probably true of most big cities).
4.
Music Hall of Williamsburg
- v. cool bartender/esses. I like the fact that you don't have to stand outside waiting for the doors to open, you can wait in the bar and loosen up with a drink first. also, the faucet knobs in the women's loo at Music Hall of Williamsburg need to be tightened. (I guess some drunk girl thought she has the strength of Superwoman and decided to wrest part of one of the hot water knobs off the counter.)
and of course, they seriously need more security. (good god, if necessary, hire the stony Arturo from Morrissey's camp when he's not touring.) apparently, this sort of storming the stage happens here and at the Bowery Ballroom ALL THE TIME.
5. the NYPD at Penn Station are so stoic and unmovable to the point that they're pretty much useless if you're in a bind and actually need their help.
the travel options to see
the Big Pink
/
Friendly Fires
in November and December are still on the table...